Shopping Cart
Your Cart is Empty
Thank you for your business!
You should be receiving an order confirmation from Paypal shortly.
Exit Shopping Cart
What is the rationale behind the Organization of African-American Linguists?
As stated by the American Council on the teaching of Foreign Languages (ACTFL): "Discover Languages, Discover the World."
Hispanic Population on the Rise
The need for an ambitious effort to promote the value of language learning is clear. Such learning offers social, cultural, academic and workplace benefits that will serve students all their lives. Americans live and compete in a world of diverse cultures and races, a world where competence in more than one language is an essential part of communication and understanding. Our ability to understand and be understood by other nationalities can only enhance our own national security. We do business with many countries and we rely on their citizens as consumers of U.S.-produced goods and services. Just as important, our country welcomes new citizens from diverse cultures from many nations. We live, work and play with such 'new Americans' and our ability to understand their diverse cultural and social backgrounds is key to our expanded role as citizens of the international community. We must be able to communicate with and learn from all people for whom English is not a native language. Finally, the disciplines learned during the study of languages and literature endow language learners with cognitive, analytical and communication skills that carry over into many other areas of their academic studies and future success. That success, in fact, will deliver valuable dividends to the businesses and organizations for which they work.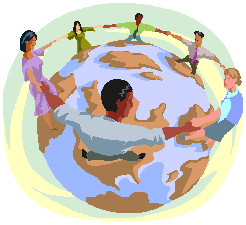 Why Study A World Language?
The study and knowledge of another language has a great deal of influence on the economy of the U.S. and on international trade.
Each year, 200,000 Americans lose out on jobs with business because they do not know another language.

Additionally, one third of all the corporations in the U.S. are either owned or based abroad.

One out of every six production job in the U.S. depends on foreign trade.

One half of the top profit making companies on Fortune magazine's "500" list are foreign controlled.

Four out of five new jobs in the United States are created as a result of foreign trade.

The majority of American employers, according to a national survey, consider the command of a foreign language a useful skill.

Fifty percent of all the jobs for the 21st century have not been created yet. What is known is that communication will be central to the majority of these jobs.

In NC alone there are over 1,000 international firms. The United Kingdom, Germany, Japan, and France have the largest number of firms.

According to the Kiplinger Washington Editors (1996), the Hispanic share of the workforce will increase by 25 percent by 2010. Asians, around 50 percent. Minorities will keep moving up the corporate ladder in the next 15 years. Managers who know how to deal with a diverse workforce will have an edge.

"The workplace of tomorrow is a world of many cultures and languages ...with new forms of global commerce we can't even imagine today" (Kiplinger Washington Editors, 1996).
It helps students develop a sense of cultural pluralism. One cannot pretend to understand another country's culture unless one knows the language. Language and culture are truly inseparable.
Academic Reasons
The study of another language impacts other academic areas.
Data from the Admissions Testing Program of the College Board show a positive correlation between SAT scores and the study of a FL. Verbal scores of students increased with each additional year of language study. The most interesting piece of information is that the verbal scores of students who had taken four or five years of foreign language were higher than the verbal scores of students who had taken four or five years of any other subjects.

It helps students develop greater cognitive skills in such areas as mental flexibility, creativity, divergent thinking, and higher-order thinking skills.

The study of a FL has been shown to enhance listening skills and memory and can contribute a significant additional dimension to the concept of communication.
Conclusion
If education is a means by which to prepare students for the complicated world they inhabit, then the educational system cannot deprive students from a general education in the area of foreign language. The value of such an education not only lies in job-related advantages but also in the added dimension of an understanding of other people and cultures.
(Sources: International Westinghouse Electric Corporation, American Institute for Foreign Study, and National Council on Foreign Language and International Studies.)
For links on the same subject, go to:
http://eleaston.com/why.html#ws
http://www.eric.ed.gov/contentdelivery/servlet/ERICServlet?accno=ED402794
http://www.utm.edu/departments/french/why.html
The color brochure "Why Learn Another Language" is again available free of charge from the Modern Language Association. Packets of twenty may be obtained by writing to either [email protected], or the Office of Foreign Language Programs, MLA, 26 Broadway, New York, NY 10004-1789. Requests of up to 300 copies will be honored. The brochure is also available for downloading in PDF and HTML files at www.adfl.org.
Has a positive effect on intellectual growth.

Enriches and enhances mental development.

Leaves students with more flexibility in thinking, greater sensitivity to language, and a better ear for listening.

Improves one's understanding of his/her native language.

Gives a person the ability to communicate with people s/he would otherwise not have the chance to know.

Opens the door to other cultures and helps one to understand and appreciate people from other countries.

Gives a student a head start in language requirements for college.

Increase job opportunity in many careers where knowing another language is a real asset.
Review our

booklist

for more information.
CAREERS UTILIZING WORLD LANGUAGES
The demand for personnel with language skills is apparent in many different types and places of work.
BUSINESS, INDUSTRY & COMMERCE
The types of companies needing management and sales personnel with foreign language skills cover the whole spectrum of the business world. In their operations, they find that foreign language proficiency is an enormous advantage, both in the United States and in their overseas offices. International advertising is a highly specialized activity; its prime purpose, of course, is to promote the sale of American products overseas.
1. There is a trend toward the expansion of business operations beyond the borders of the United States even by firms of moderate size.
2. There is a clear indication that business firms often attempt to reach market segments made up of people in the United States with specific cultural background that may include language differences.
3. There is recognition on the part of business firms that effective communication is an essential element of good operational supervision and management. Language differences between workers and supervisors pose a problem when the work force is drawn from an environment characterized by pluralistic cultural backgrounds.
BANKING & FINANCIAL POSITIONS
As international business and industry expand, international banking and financial activity naturally follows. Today one fourth of all new direct investment goes abroad.
TECHNICAL & ENGINEERING POSITIONS
Companies with overseas plants that manufacture machinery and equipment used abroad are likely to need technical and engineering personnel with foreign language proficiency.
SECRETARIAL & CLERICAL POSITIONS
In the business world, the range of languages and fields is so vast that some employment agencies maintain permanent advertisements for bilingual secretaries and typists. The bilingual secretary positions have been described as a "rare commodity."
GOVERNMENT & INTERNATIONAL
The Federal Government is the largest employer of Americans with foreign language skills, both in this country and abroad. The following U.S. Government departments and agencies require personnel with language skills.
The U.S. Department of State employs more than 15,000 Americans in its 300 diplomatic and consular offices around the world. Overseas, they have extensive contact with foreigners, interpreting U.S. foreign policy, protecting the interests of Americans abroad, processing visas, and carrying on intelligence work. The other agencies requiring at least one foreign language from most of the employees are: Agency for International Development (AID); Central Intelligence Agency (CIA); Federal Bureau of Investigation (FBI); Drug Enforcement Administration (DEA); Immigration & Naturalization Service (INS); U.S. Customs Services; United States Information Agency (USIA); and the Defense Intelligence Agency (DIA).
National Security Agency; Library of Congress
Library of Congress personnel utilize foreign languages in a wide range of activities: acquisition, cataloging and classification, reference and research. The Library uses over 450 languages in connection with its more than 19 million books and pamphlets, the majority of which are in non-English languages.
In areas where large numbers of citizens do not speak English local governments need employees with foreign language skills.
INTERNATIONAL - UNITED NATIONS
The UN is the largest employer of language specialists - translators, editors, interpreters - in this country. Its purpose is to maintain international peace and security, to develop friendly relations among nations, and to achieve international cooperation in solving economic, social, cultural and humanitarian problems.
Approximately 100,000 people in this country work in the field of foreign language teaching in Jr. & Sr. High Schools, in colleges and universities, elementary schools and in commercial and government-operated language schools.
TRANSLATORS and INTERPRETERS
Interpreting deals with oral communication. The greatest demand is in Spanish. At present, interpreters for the Federal courts are certified after passing an extremely rigorous examination in English and Spanish.
The translator is required to produce clear, accurate, and well-written renderings of foreign language texts, from general reports and speeches to literary works and highly technical subject matter. Many translators specialize in one profession like business, religion, education, law, engineering or public services.
Journalism -- The knowledge of foreign languages is an important asset to employment in journalism. A significant number of newspapers have indicated that foreign language skills are needed in the profession because they enhance a reporter's effectiveness.
Radio & Television -- There are over 300 radio stations throughout the U.S. that broadcast programs in foreign languages -- French, German, Italian, Spanish and many others. Some stations producing language education programs. Language skills are needed by the program writers and announcers at most radio or television stations.
Film -- Film production is one of the most international of the arts in which technical skill and artistic talent transcend national boundaries. Writers, performers, executives and technicians may need a foreign language in order to have a thorough knowledge of their subject, to communicate with the people being filmed, and with each other, to prepare scripts, or simply to get along in the foreign country where they are working.
Publishing -- Positions as editor, editorial assistant, copywriter, proofreader, technical writer, salesperson, and secretarial worker are available in the field of publishing. Foreign language skills are useful for the staffs of many publishing houses, especially those that market their books abroad, or publish translations and foreign language textbooks.
Airlines, railroads, bus and ship lines need bilingual personnel to serve foreign passengers or other ethnic groups within the United States.
Hotels, Motels and Convention Centers
Hotels and convention centers are now hiring desk clerks, telephone operators, information staff administrators, hosts and hostesses who can provide better service to visitors from abroad and enhance their employer's reputation by knowing a foreign language.
As the influx of foreign visitors to America continues, guided excursion tours will require personnel with language skills. Many such excursions and tours are now being sold as part of package arrangements for tourists from abroad. There is a need not only for bilingual guides on sightseeing excursions in cities and to tourist attractions.
Health professionals of all kinds are finding more and more that a knowledge of certain foreign languages is urgently needed in dealing with patients, especially in metropolitan areas where there are many ethnic minorities -- people who are unable to speak English well enough to describe their symptoms or understand medical instructions. Many hospitals in the U.S. have hired bilingual personnel and/or freelance consultants to serve as interpreters and translators.
Social Workers assist individuals, families, groups and communities when dealing with problems such as poverty, unemployment, poor housing or illness. In cities where there are concentrations of minority groups and immigrants, social workers come into contact with many people who do not speak English.
The librarian may use foreign language skills in a variety of ways including book selection, classifying and cataloging, serving users who speak other languages, and working abroad in U.S. Government libraries, centers, and schools or those operated by other organizations.
Many social service organizations need people with foreign language ability, both in this country and abroad. The Red Cross, and other charitable and service organizations sometimes need bilingual workers and volunteers to work with other ethnic groups.
Over 650,000 Americans work as lawyers; knowledge of a foreign language can be a direct, practical asset to the lawyer who works with members of the ethnic minority and immigrant groups. In law enforcement, police officers investigate crimes, and a knowledge of foreign language skills would be an extremely important advantage. Other police protection occupations include sheriffs, state police officers and state highway patrol officers.
Can you imagine fire fighters who can not understand what somebody in a house in fire is telling them or who can not tell a speaker of another language where to go and what to do in an emergency situation?
The over 5,000 Peace Corps volunteers serving in 60 countries throughout the world must know or be trained in the language of the country where they are assigned.
The VISTA (Volunteers in Service to America) program responds to needs identified by communities in the United States. Knowledge of Spanish, French or Indian languages is needed for projects involving those ethnic groups.
Advice from AAL members on learning a world language.
"African-Americans have an advantage. From antiquity our culture has been one that has emphasized keen listening as well as skillful imitation. For this reason, hearing & imitating the sounds of other languages has been accomplished with relative ease." Camellia Cuthrell, NC
"People of African descent speak all major dominant European languages due to slavery & colonization. It is to the advantage of African-Americans not to see themselves as predominant speakers of English. Black people all over the world speak English, Spanish, French, Portuguese, Dutch, Italian, German and any other language of the colonizers. Besides, look at the variety of languages alone spoken in Africa. People there are multilingual!" Frances Mecartty-Dunlap, NJ
"Tenacity is key. A student should not let money be an object when it comes to studying abroad, which is a wonderful & much needed experience. Do the research on optional language schools & Scholarships, Scholarships, Scholarships! I'm a witness that the money is out there, but you must seek it out & not be discouraged when you do not get it the first time. Try again." Andranique Ellis, AR
"Throughout my college years, I have been the only black American in all of my classes. I would like to see more people of all races learning a world language as well as a different culture. I believe this will better promote cross cultural understanding." Aurelia McNeil, MI
"I encourage all African-Americans that I can to study a language. By joining OAAL perhaps I can help in a more organized way in the future." Dr. Bobby Vaughn, CA
"My advice would be to take advantage of learning another language, it will encourage you to understand a different culture or pursue a career outside of the United States." Ashira Murphy, CA
"I would admonish African-Americans to take a chance and explore the world and its many cultures and languages. It is important for African-Americans to make themselves as marketable and as knowledgeable as possible." Tamara Hughes, NC
"Like any profession, African-Americans must stay ahead of the expectations for their profession." Lynnette Johnson, IN
[To promote world languages amongst African-Americans one must] "promote curiosity and investigation of the Diaspora and its ties to/ implications for world language study." Dr. Lee Wilberschied, OH

"If African-Americans were to see more African-American bilinguals, it would encourage them to explore different languages too. I try to encourage African-American young adults to travel and to learn a second language. It's just one more thing that will put them a step above the rest." Brenee McDole, CA

"I want to communicate the advantage of being bilingual to the African-American community as a marketable skill. Many black students do not really understand what speaking another language can do for them professionally, even if they don't major in a foreign language." Faith Chiwawana, OH

"Attack the language. You have to really want it and if it's something you desire, work hard at learning it. Familiarize yourself with the language and don't get discouraged. Practice and be patient!" Brandon Street, D.C.
"When I speak to other African-American students, I encourage them to take their language learning experience seriously. When you allow other languages in, you allow other people into your space who normally would not gain access due to language barriers." Lisa Frank, NJ
"Rise above stereotypes. They can inhibit you from achieving your goal of becoming fluent in another language." Jahmia Scott, MD
Opening up oneself to new ideas, culture and languages can help one become more understanding of different types of people, cultures and ideas. Katherine Ledbetter, CA
/