Shopping Cart
Your Cart is Empty
Thank you for your business!
You should be receiving an order confirmation from Paypal shortly.
Exit Shopping Cart
Now we can travel throughout the African diaspora without ever leaving Winston-Salem, NC!
On a recent trip to Nairobi, Kenya, my husband captured the beauty of African queens as they gazed in the noonday sun. Although I did not accompany him on this trip, I need not travel across the Atlantic to encounter innumerable women who represent the African diaspora. With more than a third (34.7%) of Winston-Salem residents being of African descent, and over 54% of its residents listed as people of color (Black, Asian, Latino/Hispanic, Native Hawaiian, Pacific Islander, and mixed heritage), in comparison to the 51.2% White population, the face of Winston-Salem is becoming more and more multicultural. Our multicultural residents represent more than numbers on a census form; with every headwrap, lappa, patois, and academic degree, their intriguing stories are waiting to be told. Travel with me and let's see where our twin-city journey takes us!
Ama (pictured above) graduated from Salem College; she is currently a second year law student at Wake Forest University Law School.
To initiate dialogue across the Atlantic, I sent a postcard to my Ghanaian friends to ascertain the most pressing issues for women today residing in Ghana. I received their contact information from my former student, Ama. Grace, her mother, and Sethlina, her aunt, drafted a very detailed response to my query. I was elated about this project because Ama told me that she and her mother had never discussed women's issues before; therefore, I was pleased to begin this dialogue between them around transnational women's issues.
Female Genital Mutilation

Abuse

Reproductive Healthcare

Education

Sexual Harassment
Ama speaks (a follow-up to her mom and aunt's assessment):
If I had to pinpoint one overarching issue it would be lack of access to education. I think that is the major underlying cause of the issues that [my mom and Sethlina listed]. I don't think that some of the issues (specifically female genital mutilation, and sexual harassment) are issues that I would have pinpointed as pressing. Sexual harassment is a problem everywhere in the world (in my opinion) and female genital mutilation is not as huge an issue as it was maybe ten years ago. But again, I think that I would select lack of access to education as the underlying problem--not just not being able to attend school, but attending school and not receiving the kind of education that would prevent the issues Sethlina and mom mentioned, e.g. sexual education courses, women empowerment classes, etc. Generally, education that would allow the girls/women to regard themselves more highly and seek better opportunities for themselves.
Guatemala in Winston-Salem
Krishauna (center) with Guatemalans Elinor (l) & Eugenia (r).
A Collaborative Partnership
I was blessed to make the acquaintance of two lovely Guatemalan women. I am a Spanish interpreter at my church and we met there one Sunday morning. Elinor and her mother, Eugenia, have recently moved to North Carolina and are having a difficult time navigating some of the local support agencies. Although Elinor is now a U.S. citizen, her mother, Eugenia, is a legal resident, but would like to apply for her citizenship. Elinor wants to hone her English by enrolling in ESL classes, and she would like to complete her GED. Eugenia wants support because she is completely seeing impaired. Eugenia would also like to study for the citizenship exam. I quickly recognized that their needs were beyond my expertise. Thankfully, I knew just who to call! Click here to read our intriguing collaborative partnership.
Director of Forsyth Tech International Center makes a phone call to assist the clients.
Achlaï Ernest Wallace is a dear friend who now resides in Winston-Salem. She is a Haitian-Canadian woman who was born in Montreal, Quebec, Canada. Achlaï speaks three languages (English, French, and Haitian Kreyole). She works as a minister on college campuses in the United States and Canada. Before moving to the U.S., Achlaï started an organization called Montreal Women's Ministry Network (MWMN). The purpose of MWMN is to bring emotional healing to Haitian women. Although Achlaï is now a U.S. resident, after 10 years, her organization continues to thrive in Montreal. She is currently in the process of starting a sister organization to MWMN in the United States called International Women's Ministry Network. I was intrigued that Achlaï amalgamated spirituality with women's activism and community organizing.
To learn more about Achlaï's work both in Canada and in the United States, I interviewed her and we focused on the following questions.
Tell me about the founding and the purpose of MWMN.

Why are Haitian women the organization's main focus?

How does class play into the work that you do?

How will the Montreal Women's Ministry Network differ from the International Women's Ministry Network?

How has traveling between three cultures informed your work (Canadian, Haitian, U.S. American)?
Click here for Achlaï´s Interview: Travelogue4.pptx (click icon located in the top right of the PowerPoint slide. View in slideshow view.)
The Complexities of Multicultural Interactions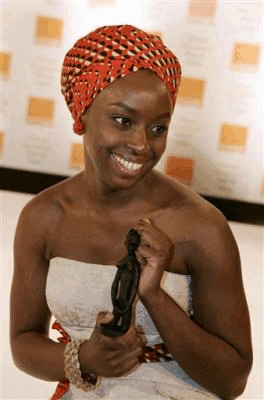 Chimamanda Adichie helps us to navigate the complex relationships between people of different cultural backgrounds.
Puerto Rico in Winston-Salem
Krishauna and Esmeralda Santiago
Santiago is one of my favorite authors. She writes about the experiences of Puerto Rican women. In her autobiography, Cuando era Puertorriqueña (When I was Puerto Rican), she writes about the amputation that she felt after being uprooted from her native Puerto Rico and sent to live in the United States with her mother following her parent's divorce. To my delight, Santiago came to Winston-Salem in September 2012 to present at the Bookmarks writers festival. Click here for Esmeralda Santiago's website.
Click here for an interview with Santiago. Santiago speaks about her latest novel, Conquistadora, which is about a powerful woman during colonial times who runs a plantation.Through her research, Santiago could not find such a role belonging to women in history, therefore she created her. Santiago also speaks about the domination of men on 19th century literature. She uses her pen to craft the story of a powerful woman who has been omitted from history while simultaneously giving voice to her African ancestors who were enslaved on the plantation.
I Don't Just Write About International Communities, I LIVE IT!
As a Spanish instructor and a speaker of French, I have always been captivated by languages and cultures. My special day had to be commemorated by sharing it with my growing multicultural circle. These international ladies wore their native attire representing Mexico, Jamaica, Nigeria, and South Korea as they accompanied me down the isle. I would not have had it any other way.
Krishauna Hines-Gaither (bride/center) accompanied by international friends
Black Women of the African Diaspora Inhabit Winston-Salem
Gathering organized by Krishauna of Black women of the African diaspora representing (l-r)Nigeria, Haiti/Canada, North Carolina, Ghana & Ohio (all currently residing in Winston-Salem). Click here to learn more about these women and the gathering.
/